Do you want to play the  Titanic Song on Recorder ?
We know!  We have listened to your requests and we have finished!
Finally we have the Titanic recorder notes for yours. It has been hard to make a good tutorial but we assure you that with this explanation of how to play my heart will go on recorder step by step everyone will be able to add it to the repertoire of their romantic songs.
The recorder is a very grateful instrument and comfortable to carry, at any time you can start to make melodies for that, you have to know many melodies, the more the better.
First of all, don't be scared, because to play the beautiful song of the titanic of recorder we don't need to be experts in the instrument, simply we will learn all the notes with the explanations that we leave you and then you will see how easy it will be to play it.
My heart will go on Recorder Notes
And who doesn't want to play the Titanic song on Recorder ?
It's a captivating melody and having seen the film it causes us many sensations when remembering those images so tragic but at the same time so romantic, it is worth studying it well, for that reason, we will also make a version of recorder titanic notes more easy, so that everybody can blow this beautiful song.
In this titanic recorder sheet music that we have developed is all written down. It contains the musical notes, the titanic recorder notes with letters and also the explained notes with fingers.
The Titanic recorder notes are within the F major scale, therefore, they are going to be the following ones;
F, G, A, Bb, C, D, E
with these seven notes we will have Titanic on recorder, easy no ?
But…we will have to handle 2 notes in high octave, these are :
And..These are all Titanic recorder notes:
My heart will Go on Recorder Sheet Music
Finally, the good is made to wait here you have the notes,We have made My heart will go on recorder in 5 steps, to make everything easier

🔔My Heart Will Go on Audio 1👇🏻
Easy no ? look at the notes and also the recorder pictures when the same note comes we don't repeat the picture.
Do You understand our Titanic sheet music for recorder ? All right, let's continue.
Let's go to the next fragment of the recorder notes of the Titanic song, is the second part of the beautiful introduction:
🔔My Heart Will Go on Audio 2👇🏻
Well, it's on!
at the end you will be able to download this Titanic sheet music but here we wanted to divide it into sections.
Try to sing inside the titanic melody that will help you develop your musical ear.
But let's go on, now play the sung verse that we are going to play with our recorder:
🔔My Heart Will Go on Audio 3👇🏻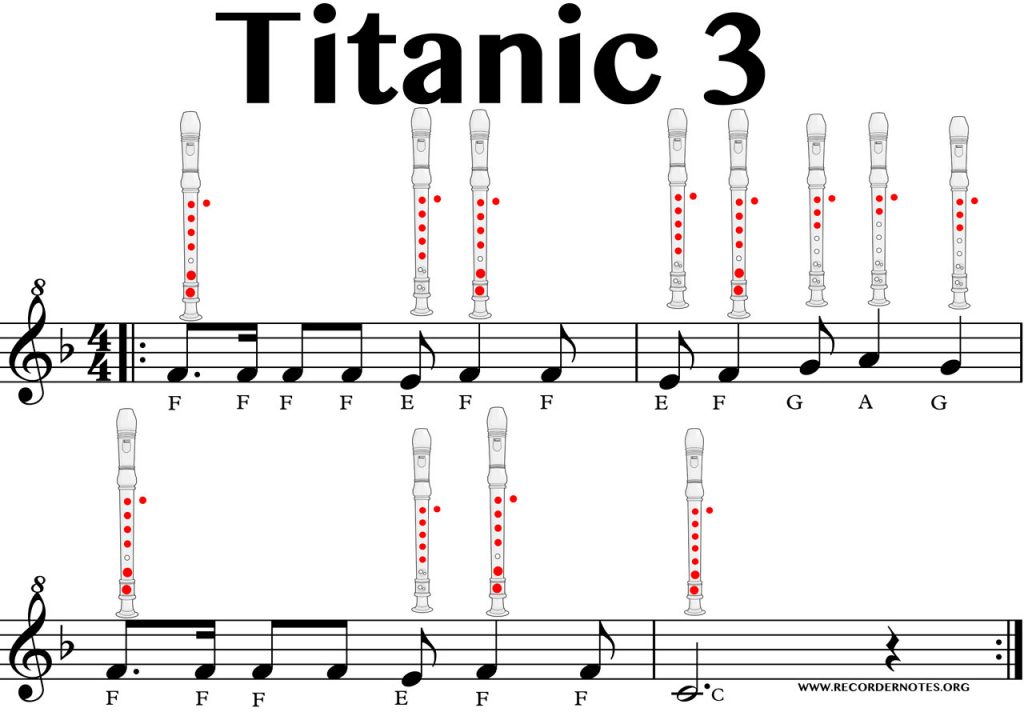 This part is the sung verse of My heart will go on and also repeats, look at the signs of repeating, now let's continue with the melodic resolution:
🔔My Heart Will Go on Audio 4👇🏻
Finally, here you have the final resolution of the melody:
🔔My Heart Will Go on Audio 5👇🏻
How'd it go? Did you like it ?
Hopefully this tutorial has been helpful, we have taken a long time to develop it so, we hope you share it and help us to make this website dedicated to the recorder known everywhere.
Youtube my heart will go on recorder
Here you have the video of how to play my heart will go on recorder
Subscribe to our Youtube channel !

Titanic Recorder Meme
Don't be scared to finish we wanted to make a joke with the Titanic song.
This failed recording with the flute of the Titanic song is tremendously fun.
We all hope to find the song perfectly tuned but as the melody goes by the flute starts to fail and that gives us a tremendous laugh.
People usually look for this joke;
Titanic recorder fail
Titanic bad recorder, bad titanic recorder, etc
..and in the end it has become viral.
Listen to this video of the Titanic song failed if you want to have fun,
but be careful !, see if you're going to fail anyway, jaja
The History of Titanic song
But no more Titanic jokes, now really.
Titanic's film is certainly a masterpiece.
The soundtrack and this song were a big hit at the box office.
For better or worse, no one will forget the main theme of their soundtrack, My heart will go on, performed by Celine Dion.
The song came into her life when she had already recorded other popular songs for other hit movies: Beauty and the Beast for Beauty and the Beast, When I Fall in Love for Sleepless in Seattle…. Celine didn't want soundtracks to become a cliché in her career, and at first she didn't accept it.
Titanic is among the best-selling soundtracks in history, and his only song sung definitely made Celine Dion a millionaire.
Mi corazón seguirá adelante was released in 1997 and ended up being the world's best-selling single in 1998. Today it's still one of the best-selling tracks ever.
During the shooting, Titanic director James Cameron instructed composer James Horner that he didn't want songs with lyrics in his film.
Horner didn't stop until he put the song on the soundtrack.
Horner waited until Cameron was in a good mood before presenting the song to him. After playing it several times, Cameron declared his approval, although he was concerned that he would be criticized for "going to commercials at the end of the movie.
The song was sung in a single take and without an instrumental base. Horner, Dion and Sony decided to use this first recording because they saw that the voice had been perfect, despite being the first demo.